Mark Bush
MA VetMB CertSAS DSAS (Orth) MRCVS
RCVS Specialist in Small Animal Surgery (Orthopaedics)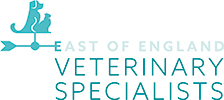 Mark qualified from the University of Cambridge in 1999 and remained there as an intern for the Orthopaedic Team. After this he worked for 4 years as a hospital surgeon in a large and busy small animal first opinion practice where he sat the RCVS Certificate in Small Animal Surgery in 2003, becoming one of the youngest vets to achieve the qualification.
Mark then embarked on a Specialist surgical training programme at Bristol University and large specialist hospital in Hampshire, leading to the RCVS Diploma in Small Animal Surgery (Orthopaedics). He worked for a large multidisciplinary referral hospital in Suffolk from 2012- 2017, where he became the Head of Surgery and also ran the surgical team and assisted in training of a number of surgical residents and interns.
Mark's professional interests cover many aspects of small animal orthopaedics, but particularly the areas of orthopaedic trauma, hip replacement surgery and the management of angular limb deformities. He works at the highest level of the profession and is regularly invited to speak at international, national and local veterinary conferences.
Mark provides surgical training courses to practicing veterinary surgeons. He publishes and reviews papers in major international veterinary surgical journals and continues to perform clinical research in veterinary orthopaedics.
Mark is currently the Chair of the British Veterinary Orthopaedics Association.