Unusual case of atlantoaxial instability
The team at Lumbry Park Veterinary Specialists present a neurosurgery case report that demonstrates how teamwork in our emergency, anaesthesia, diagnostic imaging and neurology teams led to a successful outcome – in a particularly unusual case.
Roxie was a three-year-old, female neutered English Springer Spaniel, who was presented on a Saturday as an emergency, with acute onset, non-progressive, non-ambulatory tetraparesis after running into her owners' legs. She only had slight movements in her thoracic limbs, but no movement at all in her pelvic limbs. She had bilateral Horner's syndrome. There was some neck pain, but Roxie appeared very stoic.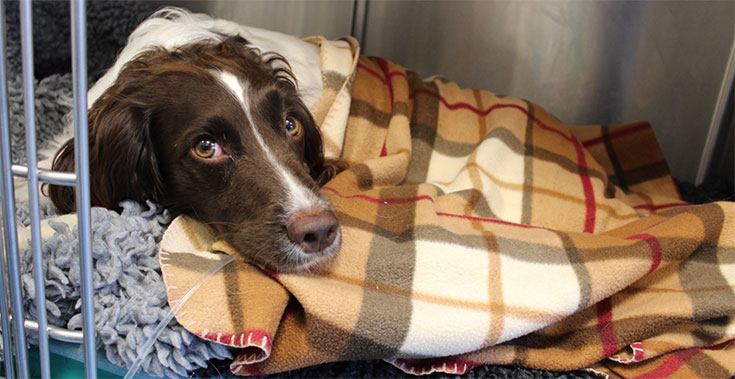 With a peracute onset, non-painful, non-progressive clinical presentation following only mild trauma, we felt fibrocartilaginous embolism, or acute non compressive nucleus pulposus extrusion the most expected differential diagnoses.
After initial assessment, she was transferred to neurology and one of our anaesthetists prepared her for GA. MRI and CT of the spine revealed, to our surprise, aplasia of the odontoid process, dramatic dorsal displacement of the axis and marked compression of the spinal cord with changes consistent with oedema and inflammation. Given the degree of spinal cord compression, emergency decompression and stabilisation was recommended.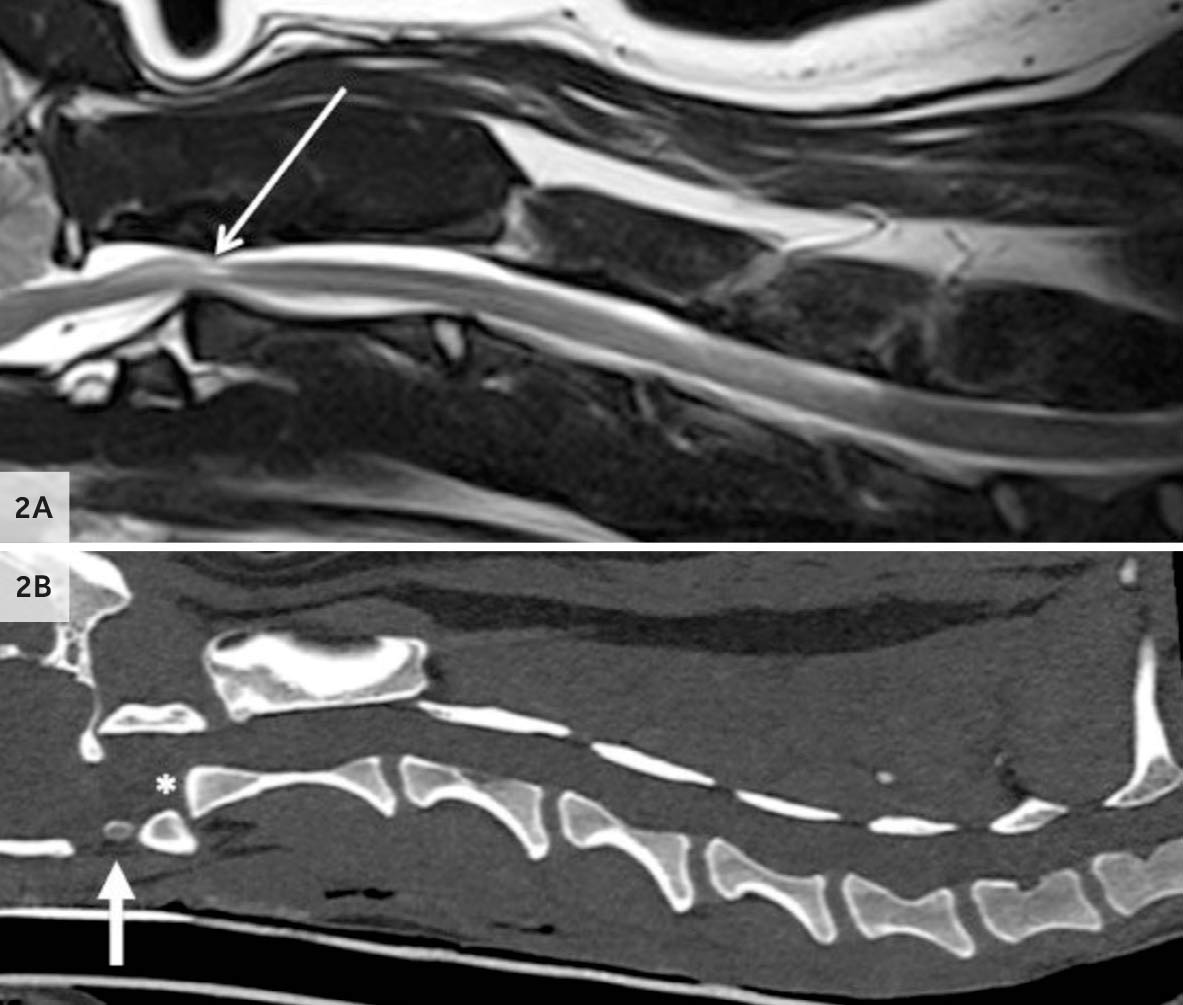 A standard ventral approach to the atlantoaxial junction was made and C2 was reduced ventrally once the joint capsule had been removed. Atlantoaxial arthrodesis was performed using a total of 10 threaded stainless-steel pins and gentamycin impregnated bone cement. The articular cartilage was debrided with a bone curette and the joint space was packed with cortical allograft prior to cement application. A postoperative CT scan confirmed adequate implant positioning and reduction of the vertebral luxation.
Roxie was hospitalised for over a week, receiving intensive care and physiotherapy. She was discharged with strong movements in all her limbs. At 6 week post-operative follow up, Roxie was massively improved, walking, with mild ambulatory tetraparesis and ataxia. Her Horner's syndrome had resolved. A year after surgery she continues to do well, running around and enjoying her life. As a team we were very thankful to be able to give her a second lease of life
Atlantoaxial subluxation has not been reported in this breed previously and the Lumbry Park neurology team have published the case to raise awareness of this diagnosis and contribute to the body of veterinary research. DOI: 0.1002/vrc2.52