Mark Lowrie wins Petplan Veterinary Awards, Vet of the Year 2022
We are absolutely thrilled to announce that Mark Lowrie from Dovecote Veterinary Hospital in Castle Donington has won Petplan's Vet of the Year 2022 award for his outstanding work and dedication to his patients, clients and colleagues.
Mark, who is a Specialist in Veterinary Neurology and Clinical Director at the hospital, was one of three shortlisted for Vet of the Year, chosen from thousands of nominations. The winners were announced at the Petplan Veterinary Awards black tie event in Manchester, on 24th March, which Mark attended along with his wife.
We asked Mark what this award means to him and his team; "Being recognised for this major award has been both an extremely exciting and humbling experience. I must express my gratitude to all who have been a part of my achievements and to recognise those still working hard to improve veterinary health and to make it a better place for pets of all kinds. I cannot think of a single important achievement in my life that I could have done alone and I want to profusely thank my wife and soul mate for standing by me and supporting me – she is the real achiever here. The dedicated and hard-working team of Dovecote have all played their part in this award and I would not have been able to do it without them.
Mark adds, "I really hope I can give this award justice and continue in my work in improving pet healthcare, supporting colleagues, providing affordable healthcare to all that seek it and motivating the students and new-graduates within the veterinary profession to achieve their full potential.
"There is a bit of a myth that neurology only involves expensive MRI workup but I like to educate the owners I see to inform them of the reasons why MRI may or may not be necessary. Doing this results in many owners that are referred to me leaving having just paid a consult fee and a far better understanding of their pet's condition when they were expecting to spend a significant amount more. This is something I am passionate about promoting as it is easy to get into the trap of performing a scattergun approach to diagnostics with multiple tests when a targeted diagnostic plan can lead to a similar outcome and a happier pet (as testing can be stressful for them)".
Nominations for the Petplan awards are made by clients, colleagues and the general public, and this year we believe that Petplan received over 22,000 nominations over its five categories, which illustrates what a fantastic achievement this is for Mark.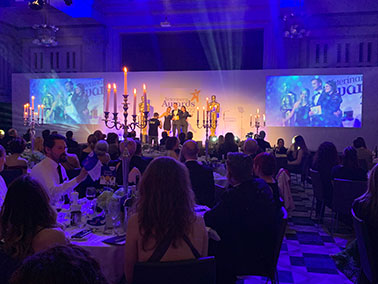 Watch Mark's finalist video to find out more about the work he does.
Photos:
Top: Mark with comedian Zoe Lyons who presented the award.
Bottom: Mark receiving his award