Nicolas Granger
DVM PhD DipECVN FHEA FRCVS
RCVS Specialist in Veterinary Neurology (Small Animals)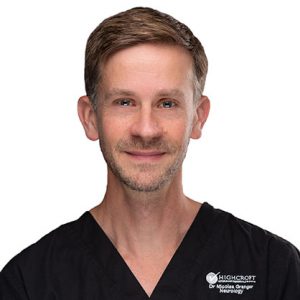 Nicolas is a RCVS Specialist in Neurology and a Fellow of the Royal College of Veterinary Surgeons. He is also an Neurology Specialist for the VetOracle Teleneurology service.
Nicolas became a Diplomate of the European College of Veterinary Neurology in 2006 before moving to the UK where he ran the neurology and neurosurgery service at the Queen's Veterinary School Hospital, University of Cambridge until 2008. He obtained a PhD in Neurosciences from Cambridge University in 2012 and in 2020 Nicolas became a Fellow of the Royal College of Veterinary Surgeons.
Nicolas offers referral consultations in neurology and neurosurgery, and a range of neurosurgeries for the treatment of disc related problems, spinal fractures and sub-luxations, congenital anomalies of the spine, cancers of the spinal cord and brain diseases. He is the only neurosurgeon in the UK to offer sacral neuroprosthesis implantation for the treatment of neurogenic incontinence. Alongside medicine/ICU/anaesthesia specialists, he runs a feline acromegaly clinic and offers treatment by pituitary surgery in cats and dogs.