CVS Referrals celebrates as its second CVS-trained Resident becomes a Specialist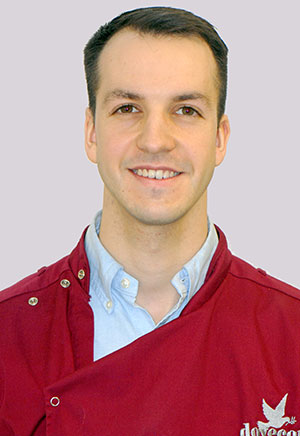 Congratulations to Thomas Mignan who has passed his diploma exams to become an EBVS® European Specialist in Veterinary Neurology.
Thomas joined Dovecote Veterinary Hospital, in Castle Donington, in 2018 to embark upon a residency training programme, under the supervision of Mark Lowrie, which he finished in 2021 shortly before taking his Diploma exams.
"I'm delighted to have achieved specialist status," says Thomas, "This feels like crossing the finish line after years of hard work. I'm extremely grateful to Mark and the entire team at Dovecote Veterinary Hospital whose guidance and support helped make this possible, and look forward to applying my expertise into practice."
Thomas is the second CVS Resident to be trained within the Group from Residency to Diploma.  The first was Sergio Gomes, who passed his exams last year and who also trained at Dovecote under the supervision of Mark Lowrie, Neurology Specialist, Clinical Director and now Petplan's 2022 Vet of the Year!
Mark Lowrie says: "I am so happy for Thomas as he has worked so hard for this. He has continued the success of our training program but it is clear this is only just the beginning and I look forward to seeing what new endeavours he brings to the discipline of veterinary neurology".
Dovecote Veterinary Hospital offers specialist care in neurology, dermatology, surgery and oncology.
CVS Referrals has been running an increasing number of approved residency programmes across its referral centres for the past 5 years. The number of residents and the range of disciplines has been growing and they now have residency programmes in surgery, neurology, radiology, anaesthesia and analgesia, and internal medicine. The programmes allow vets to sit their diploma exams at the end of the residency to become Specialists in their chosen field.